Camping picthes and nature accomodation
When we talk about REAL camping, we're not making empty promises. At Onlycamp, we hold a deep attachment to the camping spirit! As a result, a vast majority of our sites are dedicated to bare pitches on all our campgrounds, where you can set up your tent, van, caravan, camper, and of course, your hammock 😉. At Onlycamp, there's no risk of ending up on a small pitch squeezed in between rows of mobile homes; we reserve our most beautiful spots for our fellow campers! By staying with us, you're guaranteed to have your camping spot, along with the accompanying services: with or without electricity, well-maintained restrooms, and people to connect and share good moments with throughout your stay. Plus, the little extra at Onlycamp is that you can choose your favorite spot upon arrival, and even reserve it to ensure the best possible stay.
On-site, enjoy services dedicated to campers:
clean and functional sanitary facilities, cleaned several times a day, adapted for people with reduced mobility
a service area for motorhomes
electrical connections if needed, available for an additional fee
refrigerators, barbecues, and baby kits for rent at some of our campgrounds (information available on the campground's website)
Smart stay,
with the Camping Card
With the Camping Card, enjoy discounted stays at Onlycamp, Huttopia, and Citykamp campgrounds. Get your one-year valid camping card at one of our campsites and stay at a unique rate of €15 per night in the spring and fall at Onlycamp campsites (rates may vary at Huttopia and Citykamp campgrounds).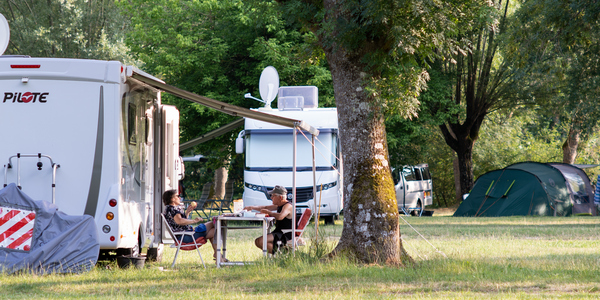 Useful Information: Almost all of our campsites will require a European electrical adapter to connect to our electrical hookups. Don't forget to bring one!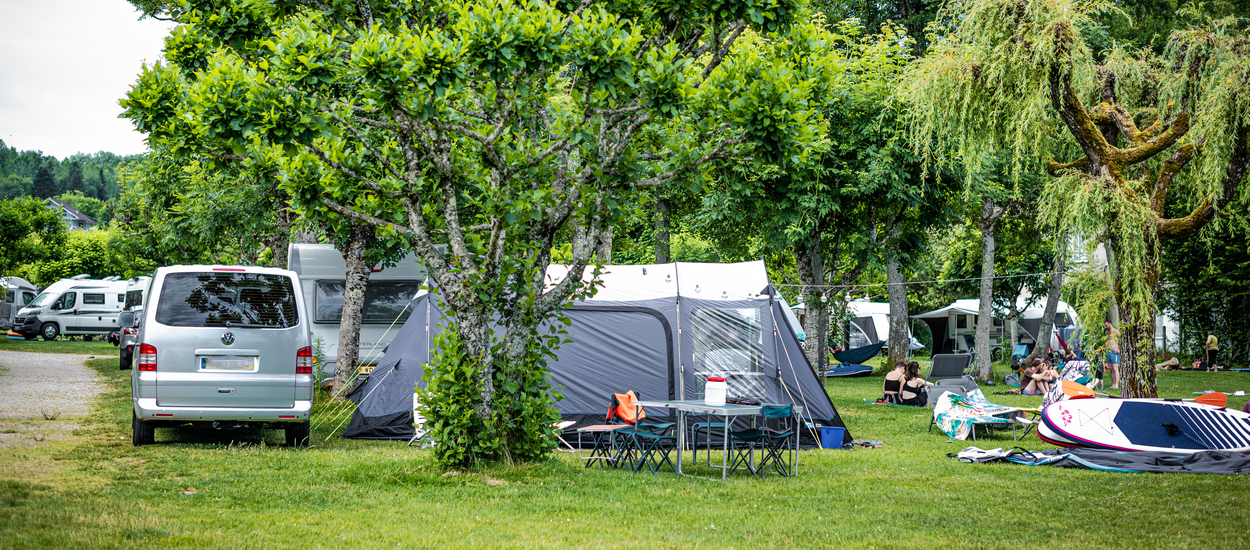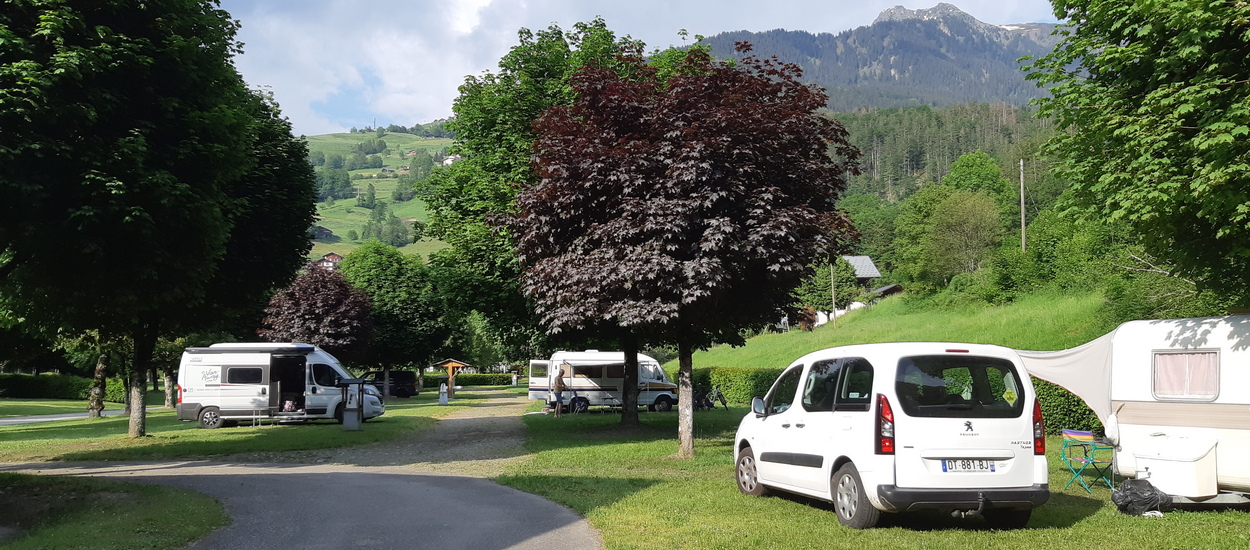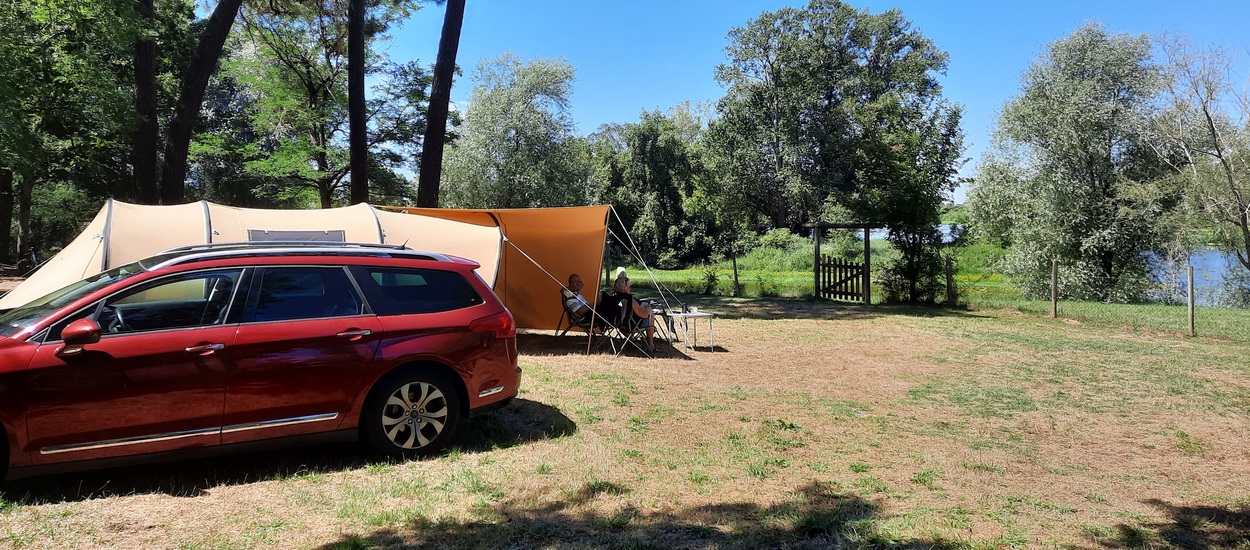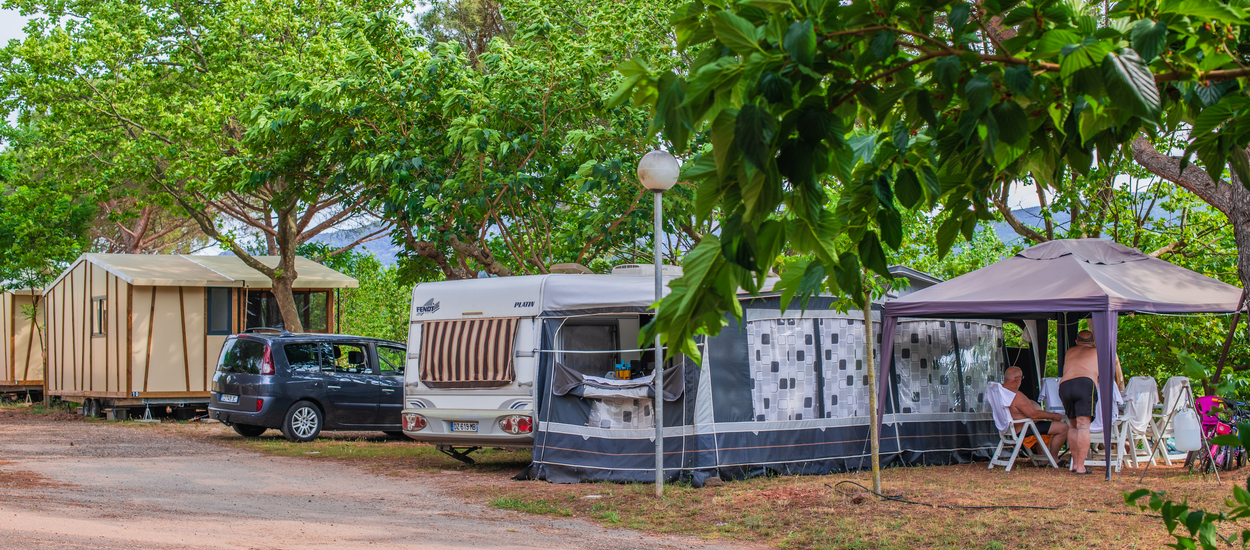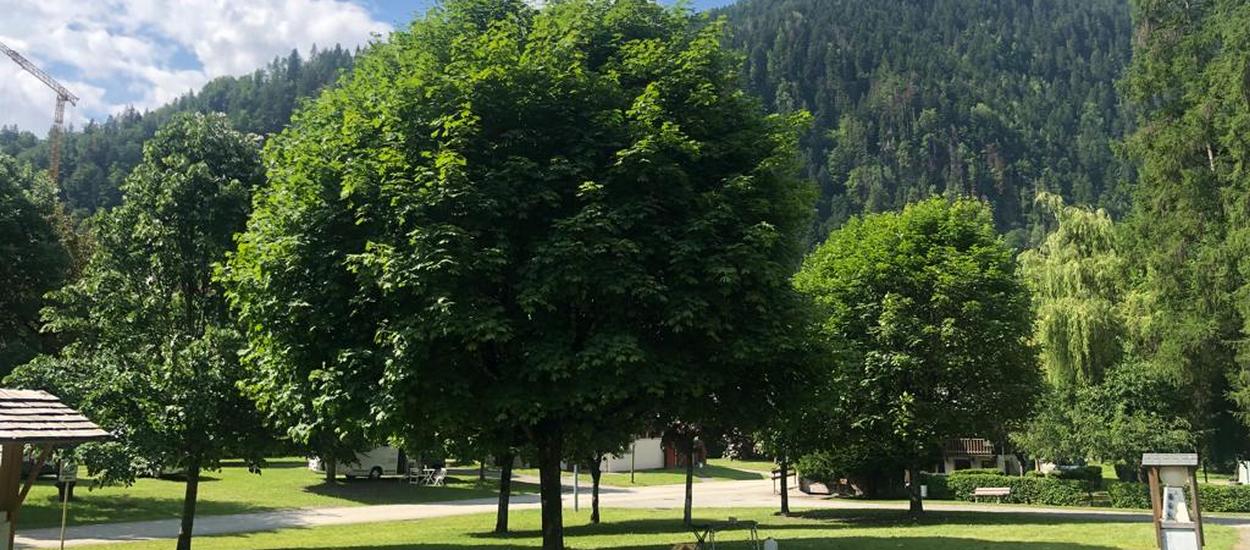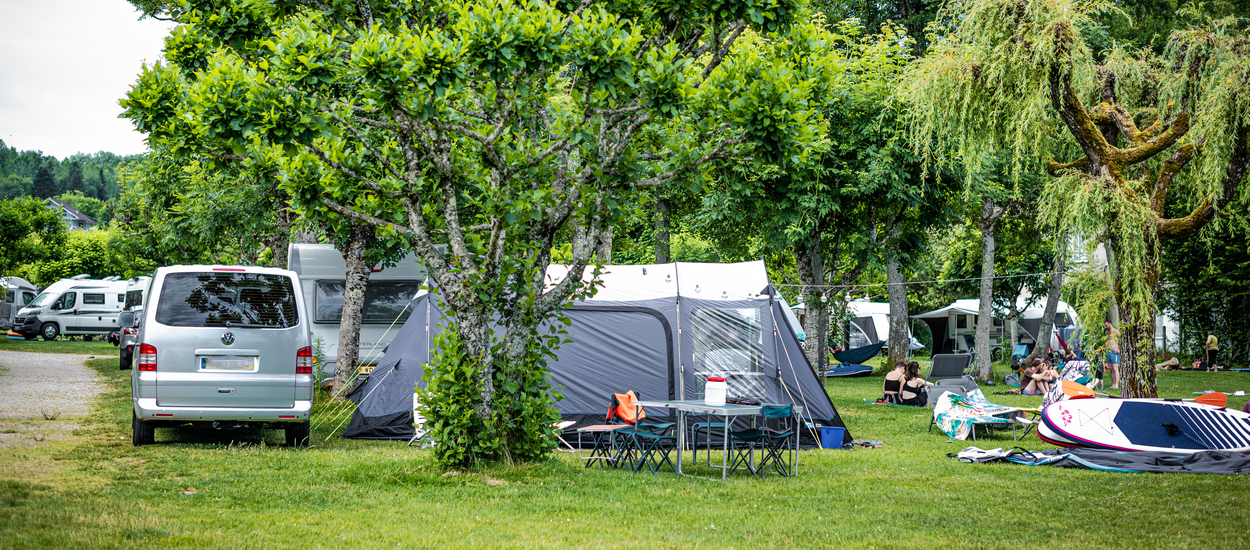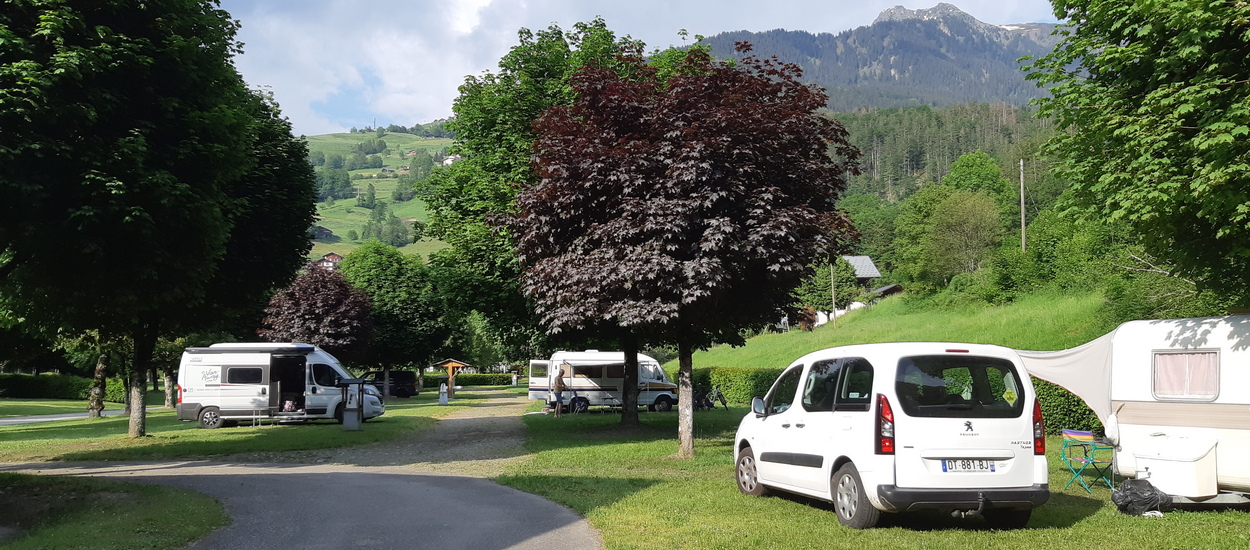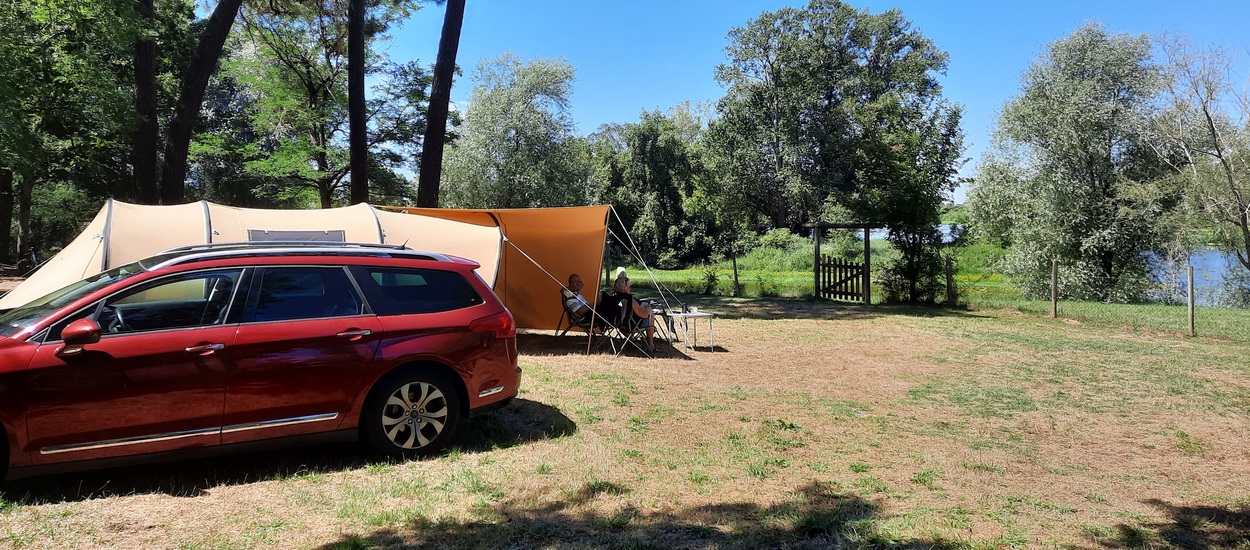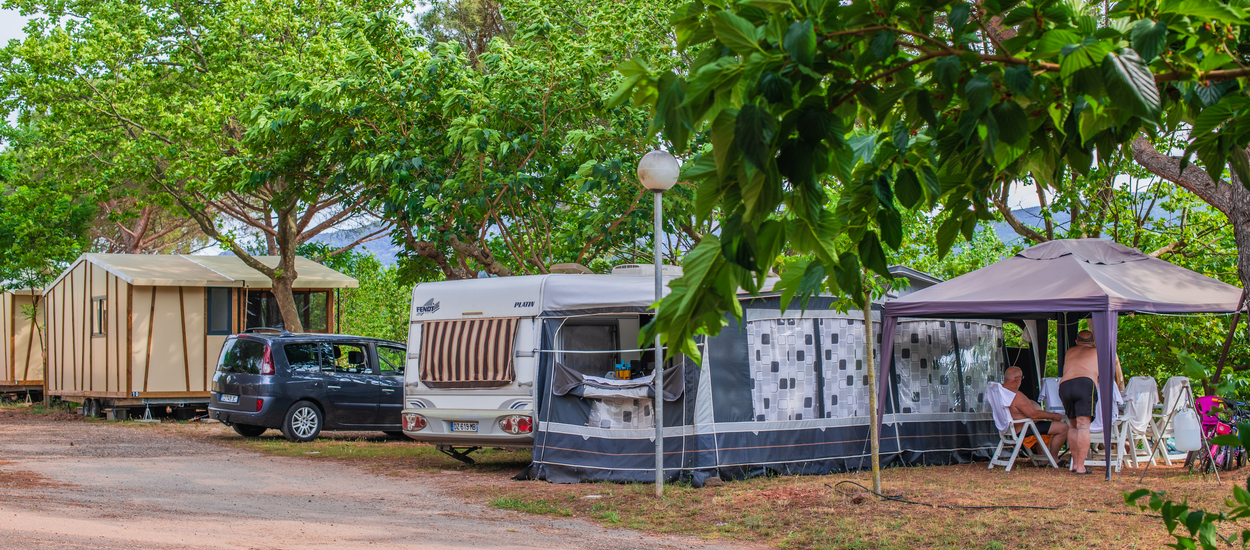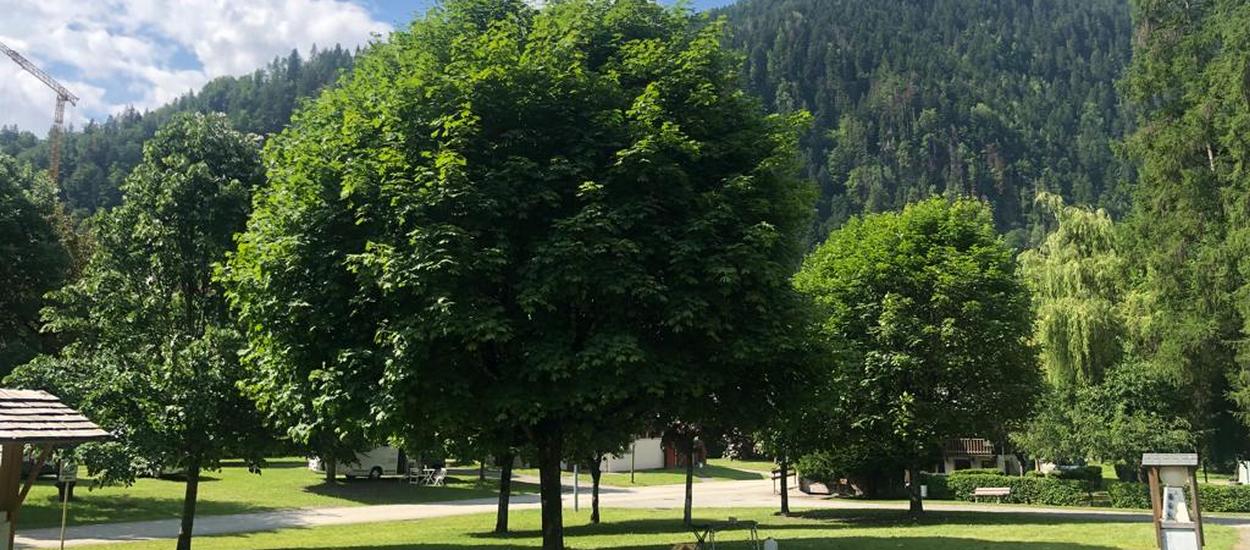 Need a bit more comfort? Don't have camping gear? Forgot how to set up your tent? Camping with kids is fun but not very practical? Or for whatever reason, we offer our rental accommodations with a natural and comfortable touch. It's camping, but with a little logistical help! And of course, we're flexible: you can arrive and depart any day of the week.
Discover our 4 favorite types of accommodations:​
The tiny house Galli
Up to 5 people
27 square meters
This wooden "caravan" with its awning will take you back to your childhood memories. Its sliding glass door allows you to live inside/outside as you wish. Kids love sleeping in the upper bunk under the awning. The equipped wooden terrace allows you to have an aperitif at the end of the day, share family meals, and enjoy the view.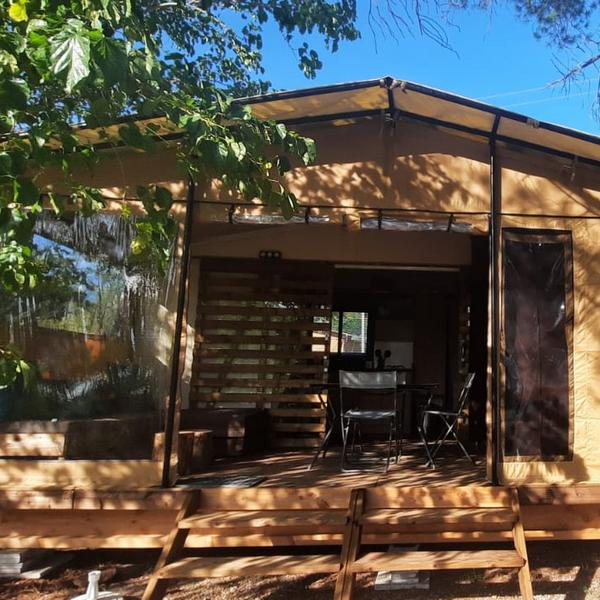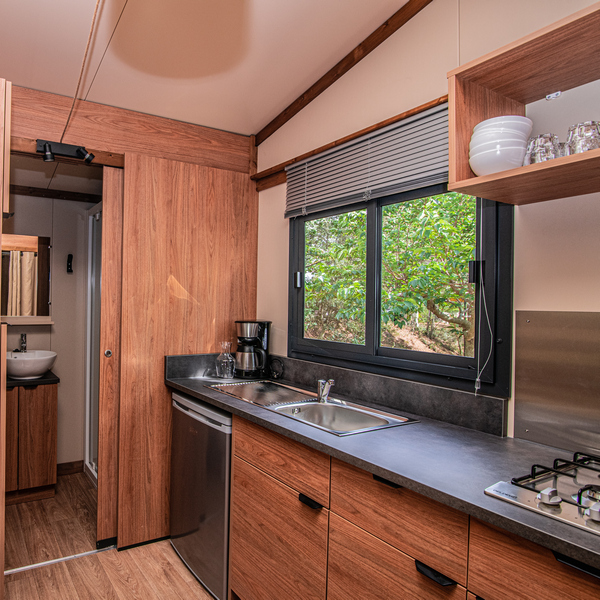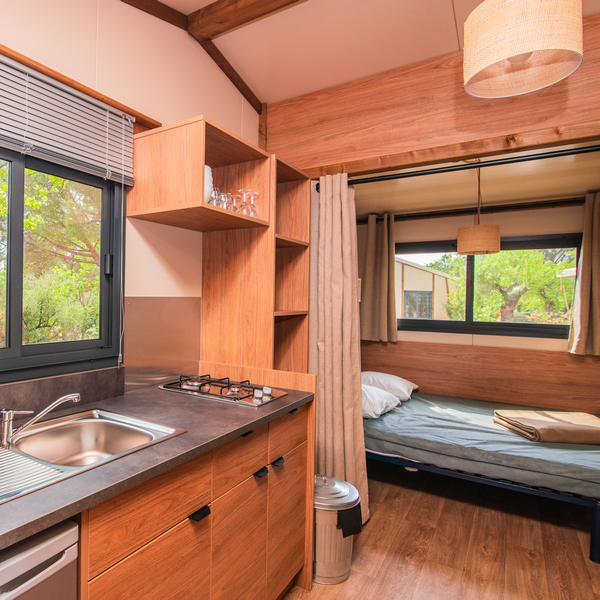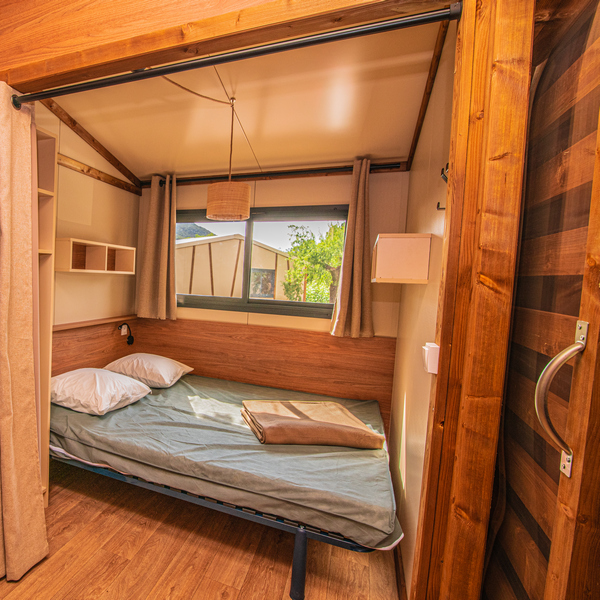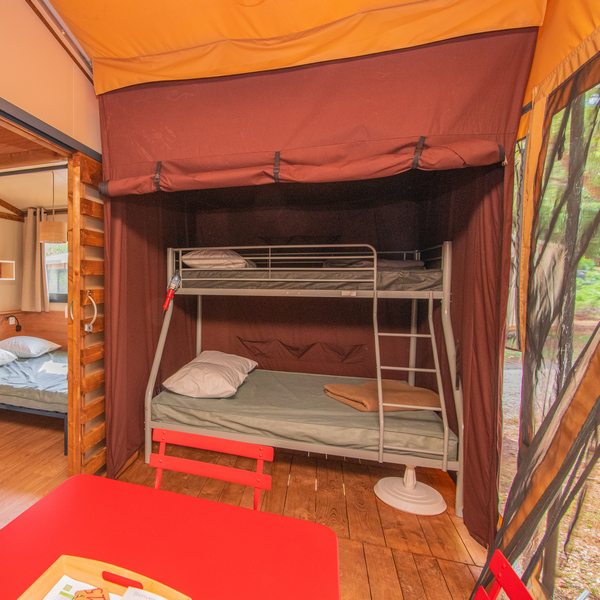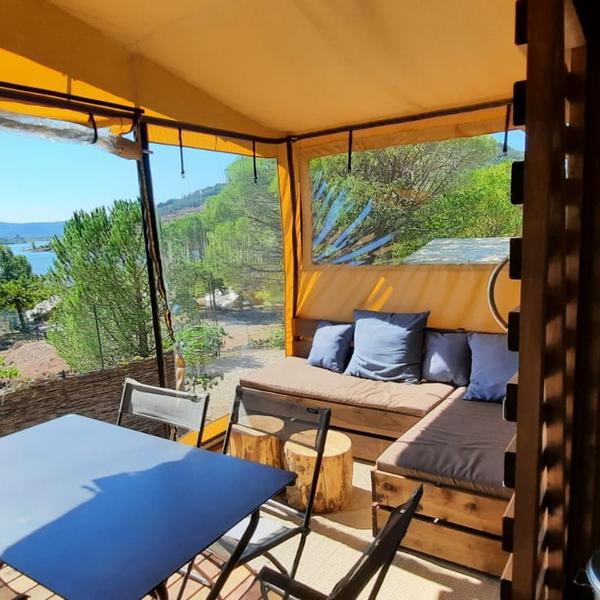 Beds
One bedroom with a double bed (140×200) separated from the living area by a blackout curtain, a second bedroom under the awning with a bunk bed with a double bed (140×190) below and a single bed (90×190) above.
Kitchen
A fully equipped kitchen with two gas burners, a fridge, a coffee maker, and all the necessary dishes and utensils for comfortable cooking.
Bathroom
A comfortable bathroom with a large shower and toilet.
The Ponza tent​
Up to 4 or 5 people
20 square meters
The Ponza tent is a furnished tent, consisting of 3 canvas rooms (a living room and two bedrooms) set on a wooden floor. It's the perfect compromise between a stay under a tent canvas close to nature and a comfortable stay. This tent features real beds, everything you need for cooking, and a spacious equipped terrace for relaxation. This tent has electrical outlets for your small appliances and is not connected to water.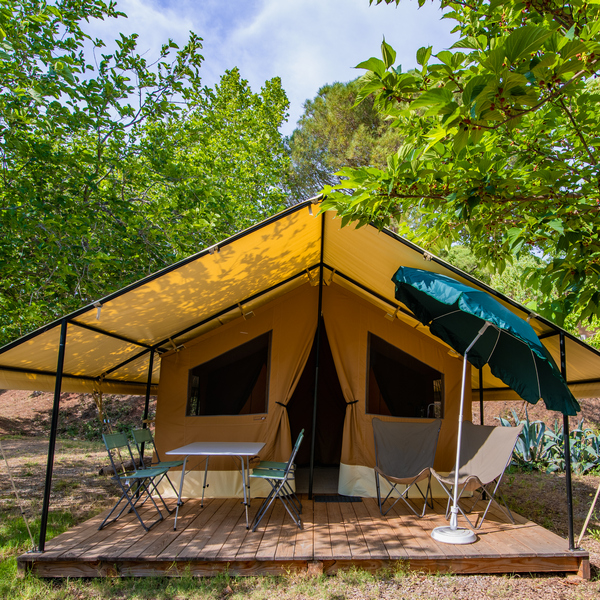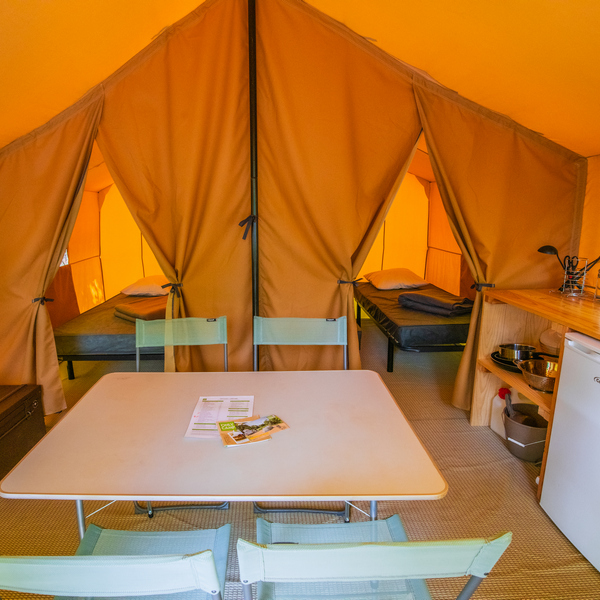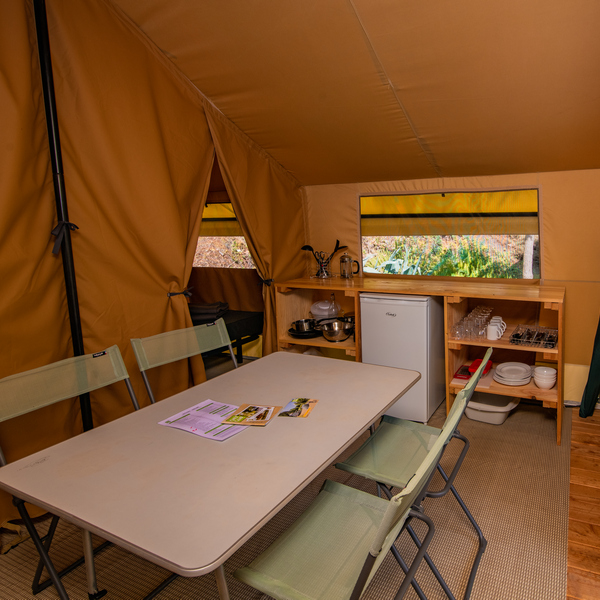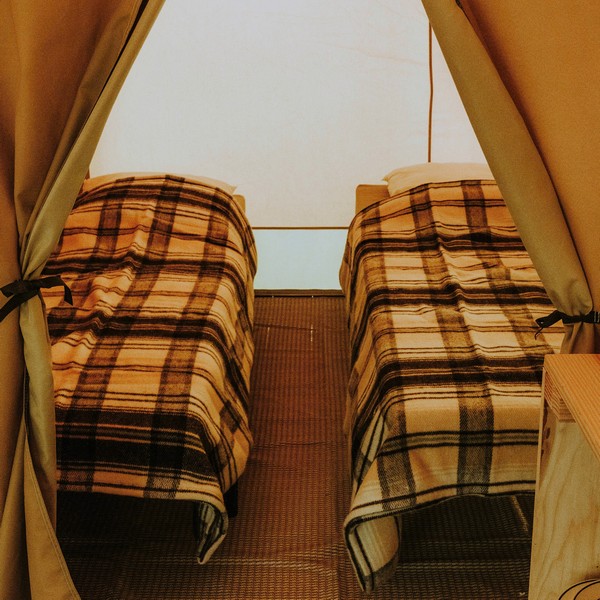 Beds
One bedroom with a double bed (140×200) and a second bedroom with two single beds (80×200). The rooms are separated by canvas.
Kitchen
A kitchen area with all the utensils and dishes you'll need, a large workspace, and a rolling gas plancha for indoor or outdoor use. There is no running water, so no sink.
Bathroom
No bathroom; use the campsite's facilities.
The Lonna tent
Up to 2 people​
7 square meters
This tent perched 2 meters above the ground allows you to spend a comfortable night. Its single room, accessible by stairs, contains a double bed, and you can open its canvas roof to stargaze at night. Below, a table and benches allow you to have sheltered breakfast. This tent has electrical outlets for your small appliances and is not connected to water.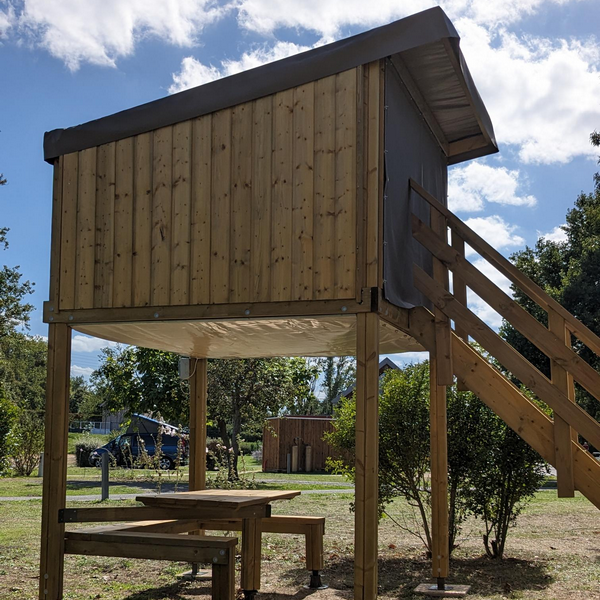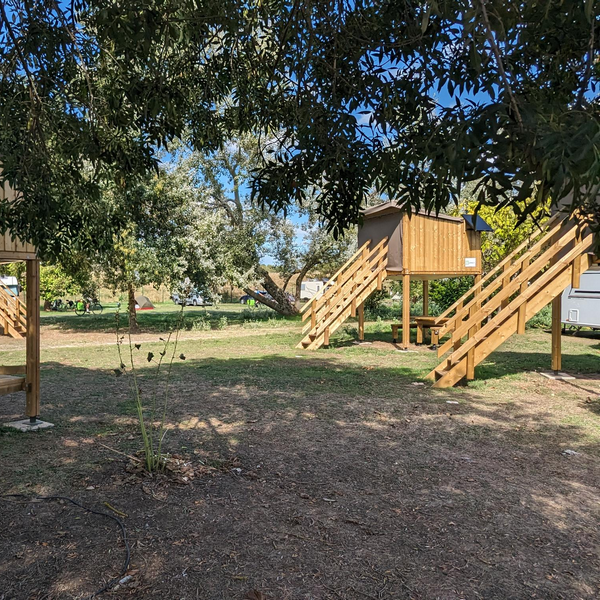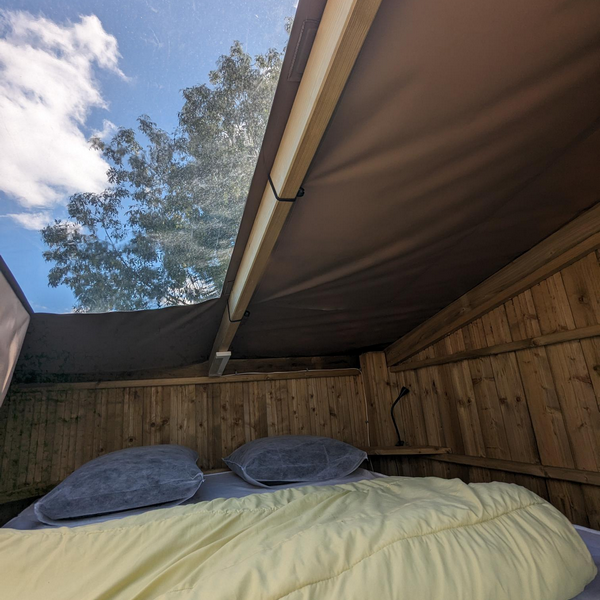 Bed
One double bed (140×190).
Bathroom
No bathroom; use the campsite's facilities.
The Vardo chalet
Up to 5 people​
25 square meters
Even more comfort, even more equipped, our lovely Vardo chalets welcome you all year round. A large glass door and a beautiful terrace allow you to enjoy the outdoors, and a well-equipped kitchen with everything you need is available for cooking delicious meals with your loved ones.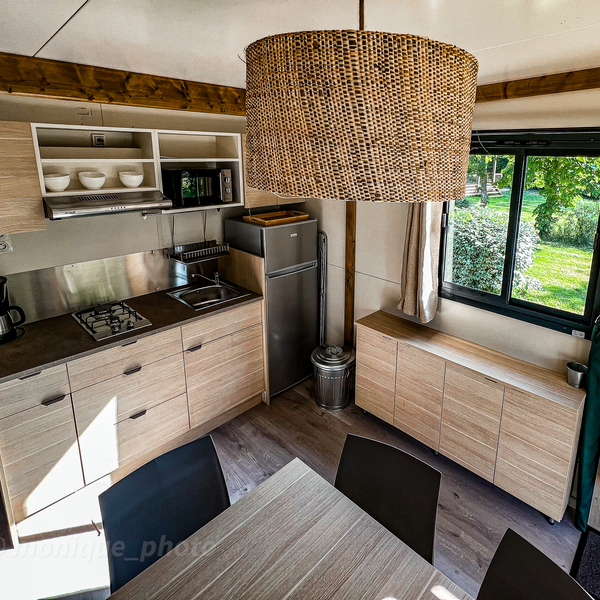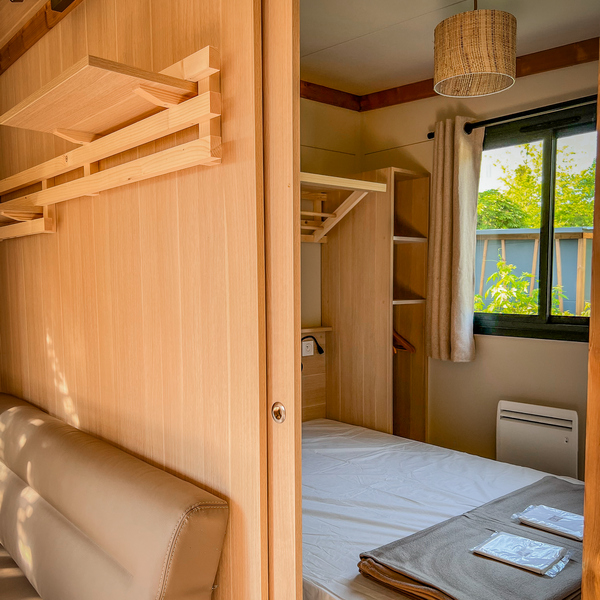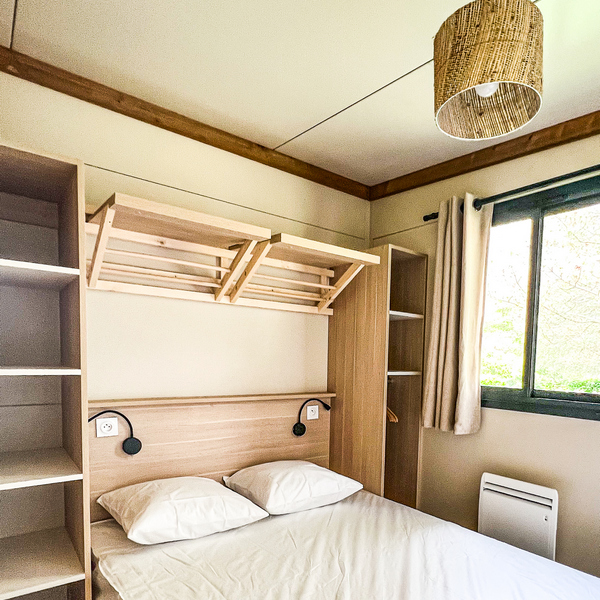 Beds
Two bedrooms with plenty of storage: The first bedroom has a double bed (140×190) with pillows and a fleece blanket. The second bedroom has three single beds (90×190), including two bunk beds.
Kitchen
A large living room with a dining area and a fully equipped kitchen with a sink, gas burners, microwave oven, refrigerator, and electric coffee maker.
Bathroom
Bathroom with plenty of storage and separate toilets.
Visit each of our campsite's websites to discover in detail all the types of pitches available.
"